Biography in a Bowl by Natalie Christensen
Fall means soup.
It means dancing leaves, sweaters, and book bags; and this year I was going to live out that exact cliché by going back to school. I am not a likely candidate. I am thirty-eight years old, I have three daughters, a business, and crinkly lines around my eyes, yet there I was, collegiate folder in-hand, gathering with high school seniors for a campus tour. I squeezed past tree-sized boys with acne and stood next to Pam and Jim from Florida. Pam, with hair sprayed into a single side-triangle and Jim, whose belly entered the room before he did, spoke loudly about their dogs at home and asked questions on behalf of their mute daughter. I tried unsuccessfully to blend in. I conceivably could have given birth to my fellow students.
This is not where I imagined myself at this point in time. I already went to college. I had a roommate in the dorms and then rented crappy places with my boyfriend. I even went to grad school and did all the grad school/twenty-something things like group living and personal exploration. Now I am a mom. I own a business and pay property taxes. Now I walk past rentals and judge the college students for not cleaning up after parties or watering the lawn. Still, this plan felt good. Very strange, but good.
The idea snuck up on me. I wanted information to further my pursuits. I wanted new skills that would move our business in a fresh direction. I tried the do-it-yourself approach, and downloaded programs, only to scream at the computer screen in frustration. Our seven-year old stood next to me, patting my shoulder and diplomatically suggesting that perhaps I watch another tutorial, but really, all the YouTube videos in the world weren't going to cut it.
Campus is five blocks away and I would take just two classes to start. I was exhilarated as well as absolutely terrified. Sure, I could do my classes from home, and work on my projects in the middle of the kitchen, and be around for my girls and still cook dinner, but it was new and I wasn't entirely clear how it would all work out. I panicked every time I though about it but I also started to notice how many boxes it checked off.
It felt self-loving. It felt like change. It felt like a solid plan. It felt like a new identity.
This last one is by far the most complicated. I wouldn't be shucking any previous responsibilities, simply adding a few more. I wouldn't stop being a mom, a business owner, an artist, a dog-walker, a craftswoman, a partner, a lover, or a homekeeper, but I would pick up a new, simple, one-word identity. Student. If I were a Fall soup I'd have to describe myself and my life as a complex and unusual vegetable medley with a dash of this, two helpings of that, and a sprig of… (depending on the day). It's not a quick and easy description. But, now? At least for a bit I'd have a mainstream-approved, fit in with the masses, all-American kind of answer. Like, tomato-rice.
Then I got the news that I couldn't actually go to school.
The details aren't important, but the gist was that I needed to delay admission for a year. I cried. I went through that list of checked-off boxes and lamented. I slumped on the couch and gave myself over to total wretchedness. I wasn't sure I wanted to put on my old identity again and this realization was both painful and alarming.
I love being a mom. I love it more than I love all the other parts of my life. My daughter has always been a kid that needed her mom close. As a baby she never slept unless strapped to my body. She never had floor time where she played on her own. She was, and still is, always near me. Always. While learning to walk she needed my finger to practice, and like all one-year-olds learning to walk she wanted to practice all the time. As she tugged me away from the movie we were watching, or away from a lively conversation, or away from a party packed with friends, or away from my plate of food, to wander down the sidewalk hand-in-hand, I remember thinking that it didn't matter at all because I didn't want to be anywhere else than with her. So I was shocked and shamed to understand that the idea of putting back on the "mom hat" without the new "student hat" seemed unbearable. I had passed through an invisible veil, only to find the way back was barred.
I made soup.
I shuffled my way from the couch to the kitchen. I pulled vegetables from the fridge. I pulled chard, carrots, summer squash, and broccoli—all bounty from our farm share, all booty from a beautiful and delicious life. I slipped on my sandals and wandered through our thick and lush garden, grabbing green beans from the vines, snapping leaves of kale from sturdy stalks, and pinching basil leaves from bursting pots—all treasures from a well-worked, cherished home, all treats from a rich multi-layered life. I added bouillon by the cube, and when it was time, leftover rice and pasta—ingredients I knew would please the girls, would feel homey and loving. And then, because I was sad, and because I must accept, even lovingly embrace, that I live an unconventional life that doesn't fit in a nice box (or bowl), I reached past the organic soy milk and the home-brewed kombucha and the drawers brimming with greens, for a bright blue tube of store-bought biscuit dough. I peeled it open and popped out thick, processed patties onto our well-used cookie sheet. We sat at the counter, casual and comfy. We dipped flaky, trashy biscuits, scooped beautiful vegetable bits and played Twenty Questions.
It wasn't tomato-rice. It also didn't matter. It was dense and layered, simple and complicated. It didn't need to be explained to anyone, and it also didn't have to be the answer to everything. It filled me up and nourished my children and show-cased some fine elements of my incredible life.
It also won't be the last or only soup I ever make. I have many renditions ahead of me. The most appealing part about soup is that you make the best you can, the most fulfilling possible version, with the ingredients you have on hand.
I can do that.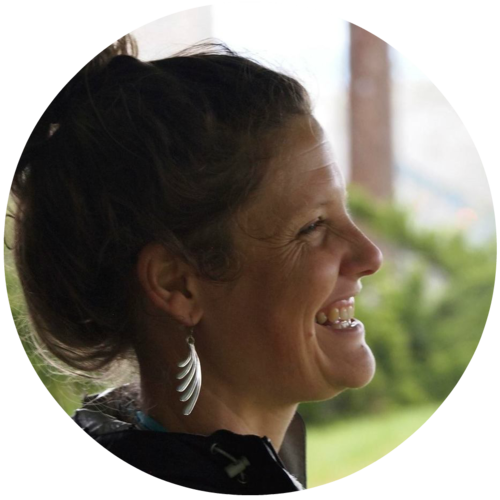 About Natalie Christensen
"PARENTING WITH EMPATHY."
Natalie Christensen is a writer, illustrator, and mother living in Missoula, Montana. She is co-creator of Feeleez, a line of tools that support the emotional development of children. She offers life + parenting coaching and on most days can be found on the banks of the Clark Fork river with her family and her yellow dog.
Connect with Natalie—Feelez | Talk Feeleez | Portfolio | Instagram