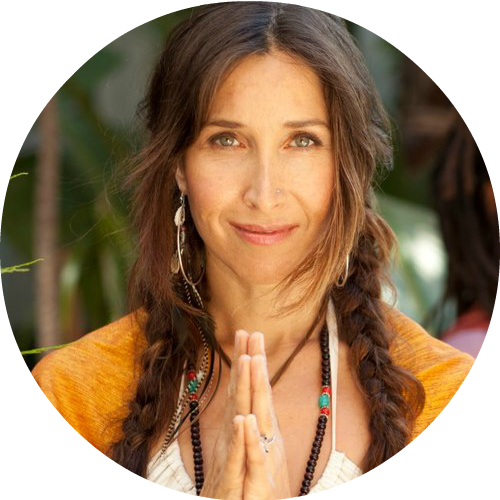 Sukhdev Jackson
Mother, Wife, Yogi & Musical Artist
Co-founder of Aykanna
Sukhdev was birth named Pauline Drossart in Brussels, Belgium and moved to London when she was 11 years old. After the loss of her mother at the age of 7, an uplifting musical movement in West London fostered Sukhdev Jackson in her early childhood. Curious to discover the music her mother loved, Sukhdev began to collect vinyl records shortly after her mother's passing. Music legends such as Nina Simone, Billie Holiday, Aretha Franklin, Stevie Wonder, and Earth Wind and Fire sparked beautiful memories and inspired her young spirit.
Influenced by a wide array of musical genres such as Jazz, 70's soul and the budding hip hop movement; Sukhdev channeled her creative expression and connection through music and movement. Ambitious yet unable to speak a word of English, she was motivated by a multi-cultural community on the streets of London. Jackson began writing poetry and break dancing with a dance crew on the street corners of Portobello road in Notting Hill at the age of 13. She expresses, "Music and writing became my medicine."
By the age of 18 her talents had naturally progressed and Jackson landed an EMI record deal with Parlophone Records – the label The Beatles were signed to. She was in a musical category of her own in the mid 1990's, with a unique poetic fusion of French and English Hip Hop and RnB. She toured the world, appeared on MTV, and was recognized for her unique style by Billboard Magazine. As part of the urban sound of London, she thrived in the creativity and dynamism of rap music, but a chaotic industry devoid of spirituality left her empty and searching for something more.
Sukhdev discovered Kundalini Yoga and meditation upon moving to Los Angeles in the year 2000. After a decade of battling drug addiction, she experienced the healing power of meditation, yoga, and prayer, which changed her life dramatically. Her newfound spiritual path led her to becoming a certified Kundalini Yoga and Meditation teacher in 2006, when she was also was given the spiritual name Sukhdev – which means the angel of peace. For the past ten years she has had the privilege to study extensively with Yogis, Holistic practitioners, Shamans and the Native people of the Chumash tribe.
Connect with Sukhdev: www.Aykanna.com